Galerie des Beaux-Arts, Paris
| | |
| --- | --- |
| Name | Galerie des Beaux-Arts, Paris |
3 Results
-
Book, Author:André Breton (1896-1966), Paul Éluard, %Publisher:Galerie des Beaux-Arts, Paris, 1938 [1991]
False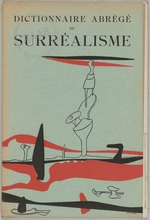 Click to order the image
-

Dictionnaire du Surréalisme, publié par la galerie Beaux-Arts en 1938.
Deux images, une notice descriptive, un dossier.
False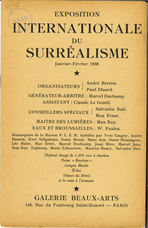 Click to order the image
-
Jean ou Hans Arp, John Banting, Hans Bellmer, Vilhelm Bjerke-Petersen, Victor Brauner, André Breton, Serge Brignoni, Jacques Brunius, Harry Carlsson, Joseph Cornell, Salvador Dalí, Norman Dawson, Giorgio De Chirico, Paul Delvaux, Oscar Dominguez, Marcel Duchamp, Edward Burra, Eileen Agar, Erik Olson, Max Ernst, Henry Espinouze, dit Espinoza, Wilhelm Freddie, Alberto Giacometti, Stanley William Hayter, Maurice Henry, Georges Hugnet, Marcel Jean, Humphrey Jennings, Rita Kernn Larsen, René Magritte, André Masson, Roberto Echauren Matta, Anne Matta-Clark, puis Alpert, dite Pajarito, Édouard-Léon-Théodore Mesens, Joan Miró, Henry Moore, Stellan Mörner, Paul Nash, Nina Negri, Richard Oelze, Taro Okamoto, Olivier Picard, Meret Oppenheim, Wolfgang Paalen, Roland Penrose, Benjamin Péret, Pablo Picasso, Man Ray, Kurt Seligmann, Max Servais, Jindrich Styrsky, Sophie Taeuber, Esaias Thorén, Elsa Thoresen, Marie Cerminova, dite Toyen, Raoul Ubac, Remedios Varo, Gérard Vulliamy
Catalogue de l'Exposition internationale du Surréalisme présentée  du 17 janvier au 24 février 1938 à la galerie des Beaux-Arts, à Paris.
Cinq images, une notice descriptive, une exposition.