2 Works
False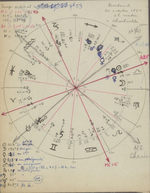 Click to order the image
-
Thème astral de Rimbaud établi par André Breton, datant environ de 1930.
Une image, une description à compléter, une bibliothèque.
False
Click to order the image
-
Manuscrit autographe signé d'André Breton, daté du 25 décembre 1961, relatif à une interprétation polémiste de Rimbaud en réponse à une enquête de France Observateur.
Six images, une description, une bibliothèque.