Les Musées national d'Art moderne du centre Pompidou et d'Art moderne de Paris, les bibliothèques littéraire Jacques-Doucet et Kandinsky ont aidé à relier nos notices aux leurs. La bibliothèque de Nantes, les musées de Marseille et les autres qui ont acquis ou reçu des œuvres ont fait de même.
Vous trouverez la cote de bibliothèque, le numéro d'inventaire de l'œuvre ou du document que vous cherchez. Il ne reste plus qu'à prendre rendez-vous dans la bibliothèque ou le musée qui le conserve.
2 Works
False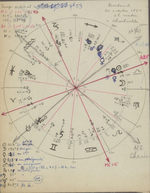 Click to order the image
-
Thème astral de Rimbaud établi par André Breton, datant environ de 1930.
Une image, une description à compléter, une bibliothèque.
False
Click to order the image
-
Manuscrit autographe signé d'André Breton, daté du 25 décembre 1961, relatif à une interprétation polémiste de Rimbaud en réponse à une enquête de France Observateur.
Six images, une description, une bibliothèque.