Les Musées national d'Art moderne du centre Pompidou et d'Art moderne de Paris, les bibliothèques littéraire Jacques-Doucet et Kandinsky ont aidé à relier nos notices aux leurs. La bibliothèque de Nantes, les musées de Marseille et les autres qui ont acquis ou reçu des œuvres ont fait de même.
Vous trouverez la cote de bibliothèque, le numéro d'inventaire de l'œuvre ou du document que vous cherchez. Il ne reste plus qu'à prendre rendez-vous dans la bibliothèque ou le musée qui le conserve.
1 Work
False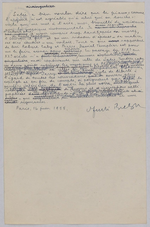 Click to order the image
-

Manuscript signed by André Breton and dated 16 June 1955.
An image, a descriptive note, a bibliography, a collection.