Réunions du groupe au café de Flore
1917 marque la rencontre d'André Breton et de Philippe Soupault autour de Guillaume Apollinaire, puis d'Aragon et d'Éluard. Le jeune groupe des surréalistes se retrouve au Flore avant 1922.
Les dissidents du surréalisme s'y retrouvent autour de Prévert et de Desnos dans les années 1930.
Exhibition place
1 Work
False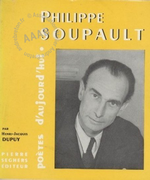 Click to order the image
Étude à partir des poèmes de Philippe Soupault, le tout publié chez Seghers à Paris en 1957.
Cinq images, une notice descriptive, un lien.