Réunions au café La Source
André Breton fait découvirir Les Champs magnétiques à Aragon dans ce café.
Exhibition place
1 Work
False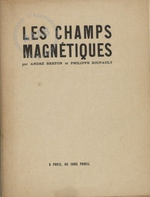 Click to order the image
-
André Breton, Philippe Soupault
Première édition des Champs magnétiques, 1920, recueil de textes automatiques écrits par André Breton et Philippe Soupault en mai 1919.
Trois images, une notice descriptive, un lien, des documents associés.