Série de conférences en Haïti
Suite de huit conférences sur le surréalisme données par André Breton en Haïti.
A l'origine 11 conférences étaient prévues.
1 Work
False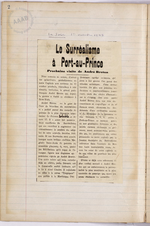 Click to order the image
-
Cahier élaboré par André Breton de 58 pages de documents et de coupures de presse datés de Port-au-Prince et de Fort-de-France, 1945-1946.
72 images, une notice descriptive, une collection.