Surrealisten
Exposition organisée en 1957 par la galerie Christoph Czwiklitzer dans trois villes allemandes. D'abord à la Galerie Cziklitzer de Cologne, du 3 avril au 18 mai ; puis au Stadtmuseum d'Oldenburg avec la complicité deTheodor Francksen-Stiftung, entre le 26 mai et le 23 juin ; enfin au Kunstmuseum de Düsseldorf, du 30 juin au 25 août.
Exhibition place
1 Work
False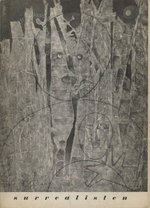 Click to order the image
-

Catalogue de l'exposition consacrée aux surréalistes et organisée à Cologne en 1957.
Trois images, une notice descriptive à compléter.