Cinquante ans d'art aux Etats-Unis
Les collections du Museum of Modern Art de New York exposées au Musée d'Art moderne, à Paris.

Exhibition place
1 Work
False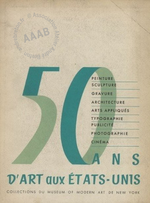 Click to order the image
-

Catalogue d'une exposition organisée par le Musée national d'Art moderne en avril et mai 1955 à Paris.
Deux images, une notice descriptive à compléter, un lien.