Alice in Wonderland
Exposition présentée à la galerie Kléber du 1er au 22 mars 1955.
Exhibition place
1 Work
False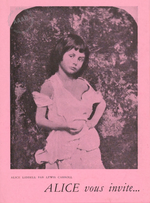 Click to order the image
-
Charles EstienneBernard Childs, Guillaume Corneille, Jean Degottex, René Duvillier, Giordano Falzoni, Aline Gagnaire, Roger-Edgar Gillet, Simon Hantaï, Jan Krizek, Marcelle Loubchansky, Wolfgang Paalen, Marie Cerminova, dite Toyen, Thanos Tsingos, Fahr el Nissa Zeid
Carton d'invitation au vernissage d'une exposition de groupe à la galerie Kléber en 1955.
Deux images, une courte notice descriptive, un livre associé.