Manuel Alvarez Bravo: un photographe aux aguets (1902-2002)
His strange and fascinating images have often been seen as the product of an exotic imagination or an eccentric version of the Surrealist avant-garde. This exhibition will go beyond such readings. While not denying the links with Surrealism and the clichés relating to Mexican culture, the selection of 150 photographs is designed to bring out a specific set of iconographic themes running through Álvarez Bravo's practice: reflections and trompe-l'œil effects in the big city; prone bodies reduced to simple masses; volumes of fabric affording glimpses of bodies; minimalist, geometrically harmonious settings; ambiguous objects, etc.

The exhibition thus takes a fresh look at the work, without reducing it to a set of emblematic images and the stereotyped interpretations that go with them. This approach brings out little-known aspects of his art that turn out to be remarkably topical and immediate. Images become symbols, words turn into images, objects act as signs and reflections become objects: these recurring phenomena are like visual syllables repeated all through his œuvre, from the late 1920s to the early 1980s. They give his images a structure and intentional quality that goes well beyond the fortuitous encounter with the raw magical realism of the Mexican scene. Indeed, Álvarez Bravo's work constitutes an autonomous and coherent poetic discourse in its own right, one that he patiently built up over the years. For it is indeed time that bestows unity on the imaginary fabric of Álvarez Bravo's photographs. Behind these disturbing and poetic images, which are like hieroglyphs, there is a cinematic intention which explains their formal quality and also their sequential nature. Arguably, Álvarez Bravo's photographs could be viewed as images from a film.
The exhibition explores this hypothesis by juxtaposing some of his most famous pictures with short experimental films made in the 1960s, taken from the family archives. The show also features some late, highly cinematic images, and a selection of colour prints and Polaroids. By revealing the photographer's experiments, this presentation shows how the poetic quality of Álvarez Bravo's images is grounded in a constant concern with modernity and language. Subject to semantic ambiguity, but underpinned by a strong visual syntax, his photography is a unique synthesis of Mexican localism and the modernist project, and shows how modernism was a multifaceted phenomenon, constructed around a plurality of visions, poetics and cultural backgrounds, and not built on one central practice.
Jeu de paume
1, place de la Concorde
75008 Paris
métro Concorde.

Hours
Tuesday: 11am – 9pm
Wednesday - Sunday:
11am – 7pm
Closed Monday,
including public holidays.
2 Works
False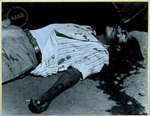 Click to order the image
False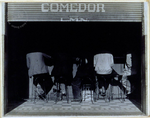 Click to order the image
-
Photographie de Manuel Alvarez Bravo prise entre 1932 et 1934.
Une image, une notice descriptive, des expositions, une bibliographie.