An Interview Of André Breton
"Quarante ans exactement après la publication du retentissant Manifeste du surréalisme, André Breton suscite, une fois encore, une intense curiosité avec un petit texte intitulé « À ce prix » et qui sert de préface au catalogue de l'exposition Silberman. André Breton a 68 ans ; et sans doute l'inquiétude admirative qu'il provoquait s'est-elle changée en respect ; et de fascination en vénération, Breton est devenu le pape d'un mouvement jadis incendiaire et qui s'accorde mal des églises et des orthodoxies. Il reste que le compagnon d'Aragon, l'ami de Trotsky, l'auteur de Nadja, des Vases communicants et de L'Amour fou est resté dans son combat et dans ses attitudes d'une intransigeante vigilance. Aucune académie, aucune institution n'a jamais songé à l'apprivoiser. À aucun moment, il n'a fourni de prétexte au conformisme. Bien plus, il lui est arrivé une curieuse aventure ! Ses rêves sont devenus la plus quotidienne des réalités et il peut les voir de par le monde, habillés sous les plus étranges uniformes. À propos de ce texte, Guy Dumur lui a posé quelques questions : sur les prolongements du surréalisme, le Pop'art et le nouveau roman ; la métaphysique et l'éducation sexuelle ; sur la politique aussi. André Breton, qui se départit mal de son silence, n'a pas hésité à répondre dans le Nouvel Observateur. Voici ses réponses."
1 Work
False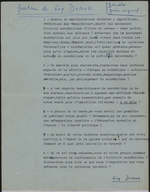 Click to order the image
-

Paru dans Le Nouvel Observateur du 10 décembre 1964, brouillons tapuscrits et manuscrits de l'entretien de Guy Dumur et d'André Breton.
12 images, une description, des liens.