Haute Fréquence
Author
Authors Roland Brudieux, Jean Brun, Jacques Brunius, Guy Doumayrou, Jacqueline Duprey, Georges Goldfayn, Jindrich Heisler, Gérard Legrand, André Libérati, Nora Mitrani, Victor Marie Lepage, dit Ange Bastiani, Ralph Bertis, Zep Cassini, Vic Corlier, Luigi Da Costa, Ange Gabrielli, Victor Saint-Victor, Maurice Raphaël, Man Ray, Bernard Roger, Jean Schuster, Clovis Trouille, Michel Zimbacca, Robert Benayoun, André Breton, Jean-Louis Bédouin, Adrien Dax, Jean-Pierre Duprey, Jean Ferry, Adonis Kyrou, Jehan Mayoux, Henri Parisot, Octavio Paz, André Pieyre de Mandiargues, Benjamin Péret, Anna Seghers, Marie Cerminova, dite Toyen, François ValorbeIllustrated by Marie Cerminova, dite Toyen
Description
Tract imprimé le 24 mai 1951 sur papier crépon rouge de 45 cm.
Tract imprimé, 24 mai 1951.
- tract tiré sur papier orangé (44 x 12, 5 cm) sous enveloppe datée 21 juin 1951:
« Ni école ni chapelle, beaucoup plus qu'une attitude, le surréalisme est, dans le sens le plus agressif et le plus total du terme, une aventure. [...] Le surréalisme [...] offre à la prospection nouvelle un terrain suffisamment vaste et magnétique pour que désir et liberté s'y recréent l'un l'autre à perte de vue. » [catalogue de la vente, 2003]

See also
1 Work
False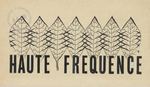 Click to order the image
Dessin et collage de lettres qui, assemblés, forment le titre du tract Haute Fréquence, par Toyen.
Deux images, une notice descriptive.